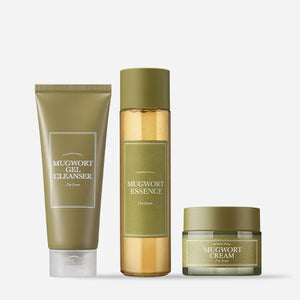 This is a calming skincare set constituted of mugwort cleanser (new arrival of 2022), single-ingredient mugwort essence, and a cream containing 73.55% of mugwort essence, all for skin soothing.

The mild gel cleanser contains 60% of mugwort extracts to remove makeup & sunscreen while cleansing and soothing your skin. The essence's light texture calms irritated skin and moisturizes the deeper layer of the skin. The cream gets absorbed into your skin quickly without any stickiness, softly protecting the skin's surface and providing comfortable relaxation.

Includes ∣
I'm From Mugwort Gel Cleanser (150ml) x 1
I'm From Mugwort Essence (160ml) x 1
I'm From Mugwort Cream (50ml) x 1


How to use:
1) Cleansing: Create enough lather with a sufficient amount of gel cleanser on your wet face and hands. Gently massage over your entire face, and then rinse off with lukewarm water.
2) After cleansing, prep the skin with the toner.
3) Dispense an appropriate amount of the Mugwort Essence and gently pat over the face to promote absorption, starting with the most sensitive areas.
4) Apply Mugwort Cream over the face at the last stage of the skin care routine.