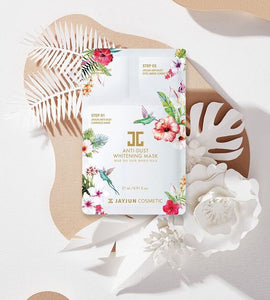 Description
Skin brightening and Anti-pollution all at once!
STEP1 Jayjun Anti Dust Luminous Mask

The skin soothing active ingredients included in this skin-brightening mask pack, seep deep into the skin and make the tired skin from fine dust look lively and clean and the skin brightening ingredient Niacinamide brightens up the skin.
STEP2 Jayjun Anti Dust Luster Ampule

It is a sleeping pack highly enriched ampule that helps with skin brightening by lightening the color of melanin in the skin and makes the skin smooth and shiny
STEP3 Jayjun Anti Dust Eyes Under Corrector

It is a skin brightening and wrinkle care double-functional cosmetic that brightens up the dark skin around the eyes and by delivering nutrients deep into the skin, it makes the eye area tight
Suggested Use
1. Smooth skin texture after cleansing and take Anti Dust Luminous Mask sheet out and spread it evenly over the face. Peel off the mask sheet after 10-20 minutes and let the leftover essence sink into your skin by gently patting.
2. After applying mask sheet, take an appropriate amount of Anti Dust Luster Ampule and apply it evenly to your skin.
3. At the end of the process, take and appropriate amount of Anti Dust Eyes Under Corrector and apply it evenly to the eye area.