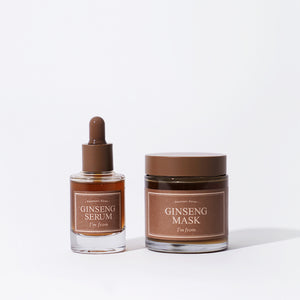 Double the effects of Red Ginseng that helps with blood circulation to cleanse the skin and improve the complexion! Wash-off ginseng mask removes impurities while ginseng serum delivers the active ingredients of Red Ginseng into the deeper layers of the skin.

HOW TO USE
1) After cleansing, apply an appropriate amount of the ginseng mask over the face.
2) Gently massage along the skin texture with the fingertips for 5-10 minutes and rinse off with water.
3) Prep the dry skin with a toner.
4) Apply 3-4 drops of the ginseng serum and spread over the face.
5) Apply the moisturizer.