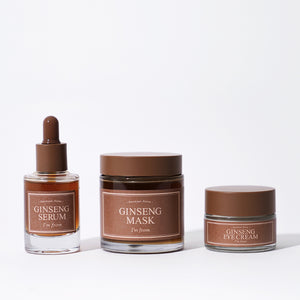 This is a 3 step skincare set containing red ginseng, which is effective in skin purification and improving dullness. Remove gunks within the skin and dead skin cells with the wash off ginseng mask, and give your exhausted skin a firm elasticity with highly extracted ginseng serum. The thick texture of the eye cream sticks to the curves of your skin, filling out any dents.
HOW TO USE
1) After cle
ansing, apply an appropriate amount of Ginseng Mask over the face.
2) Massage 5-10 minutes and gently rinse off with water.
3) After prep the skin with the toner, dispense an appropriate amount of Ginseng Serum at the essence stage and apply in a thin layer with fingertips along the skin texture.
4) Take an appropriate amount of Ginseng Eye Cream and apply lightly around the eyes and gently tap until it is fully absorbed.