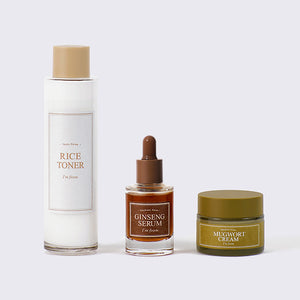 This is a 3 step skincare set. The Rice Toner, containing rice extract to brighten and improve skin texture, calms dead skin cells and creates a moisturizing protective layer. The Ginseng Serum, with its red ginseng, helps skin purification and dull complexion. The serum provides rich nourishment to the skin to increase elasticity. The Mugwort Cream has mugwort extract that is highly effective in skin soothing. It gets absorbed into your skin quickly without stickiness, bringing your skin back to a healthier condition.

HOW TO USE
1) Before use, shake Rice Toner well to mix the water and emulsion layers.
2) After cleansing, dispense on a cotton pad and wipe off or press onto dry areas.
3) Dispense an appropriate amount of Ginseng Serum at the essence stage and apply in a thin layer with fingertips along the skin texture.
4) Apply Mugwort Cream over the face at the last stage of the skin care routine.