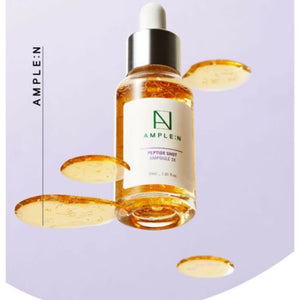 2X PEPTIDE INGREDIENTS : The texture of 6 carefully selected peptide ingredients and 2x peptide thread collaborated to upgrade elasticity energy.

PEPTIDE CONTENT 20x UP : It is a high-elastic functional ampoule with a 20 times upgraded prescription for peptide ingredients than before. (Compared to the existing AMPLE:N Peptide Shot Ampoule)

FIRMNESS PATENTED INGREDIENTS : Formulated with patented elasticity ingredients carefully considered for saggy skin.

HIGH ELASTIC TEXTURE : It filled with peptide threads in a golden formula. The Peptide Shot 2X Ampoule has been upgraded to reduce stickiness and feel the soft texture. It can be used comfortably on the skin as it is a pH weakly acidic formulation.

DIRECTION : Apply appropriate amount to the face in the morning and evening after toner.