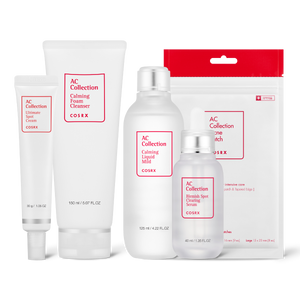 Daily ance cleanser,  Calming liquid mild, Ultimate serum, Ultimate spot cream, Acne patch
COSRX has developed its own unique Centella complex named CentellAC-RX formula. After years of experimenting, COSRX CentellAC-RX formula has been perfected to optimize the efficacy of the natural Centella ingredient which not only treats acne but also heals the damages that have already been made to the skin. This special formula allows the skin to return to its healthy state through a new methodical approach to solving acne-related concerns such as controlling excessive sebum and balancing skin's natural pH level.

CentellAC-Rx Complex 
This formula not only treats acne but also helps revitalize and recover the skin without any irritation through COSRX Centella AC-Rx Complex.
The calming formula includes three legendary healing ingredients--Madecassic Acid, Asiaticoside, and Asiatic acid.
Soft bubble acne daily cleanser without stripped feeling
Ideal for all skin types including sensitive skin and for daily use. It gently removes dirt and excess oil while fighting acne breakouts, leaving the skin soft, smooth, and fresh.
Upgrade version of Salicylic Acid Daily Gentle Cleanser
An advanced daily cleanser which has been enhanced to maximize its calming and regenerating functions with CentellAC-RX complex.