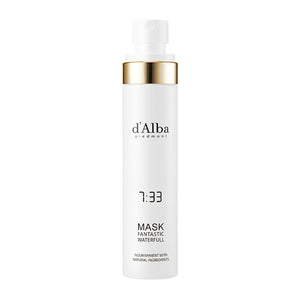 A moisture gel formula gives a boost of hydration to fatigued skin and restores the look of youthful radiance Infused with White Truffle, rich in vitamins & minerals to nourish and improve brighteness to skin SunFlower Seed Oil & Lotus Water Extract helps smooth skin texture and keep skin hydrated throughout the day.
D'Alba Fantastic Waterfull Mask Pack gives you the full overnight mask pack experience in as little as 3 minutes! This innovative spray type facial mask levels up your masking game in a major way.

D'Alba Fantastic Waterfull Mask Pack has a super unique spray-gel formula that does not run while you brush your teeth or even take a shower! Holding the bottle about eight inches from your clean face, a couple of spritzes will seal in moisture, preventing its evaporation and infuse your skin with all natural goodies such as Helianthus Annuus (Sunflower) Seed Oil, Oryza Sativa (Rice) Extract, Sodium Hyaluronate, Nelumbium Speciosum Flower Extract, and Tuber Magnatum Extract.
Pore are tightened, skin is soothed, and that luminous skin glow you've been chasing is snatched! The special HA Complex offers various-sized hyaluronic acid complexes that provides uber skin moisturizing on every level. Skin elasticity is improved while all of the yummy natural extracts facilitate the production of collagen, helping to improve fine lines and overall skin texture.
How to use
Remove moist after cleansing.
Shake well before use. Spray deliberately over the skin.
Leave on 10-15 minutes, rinse off with lukewarm water.