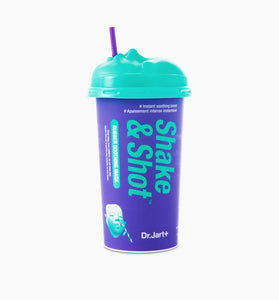 The Soothing Mask calms and repairs complexion. Contains Vitamin K3 (menadione) and a soothing botanical complex to calm irritated skin.
The innovative rubbery modeling mask penetrates skin texture more deeply than a sheet mask to deliver high-potency active ingredients. Each freshly-made mask penetrates skin surface to quickly and effectively deliver the benefits your skin needs most.
How to use:
-Open and remove the spatula from the lid.
-Combine both STEP 01 Super Booster and STEP 02 Liquid Ampoule in the cup.
-Close the lid, cover the hole with your finger, and shake well until fully mixed.
-Using the spatula, apply an even layer over entire face within two to three minutes (avoiding the eyes and mouth).
-Leave on for 15 to 20 minutes.
-Starting from the edges, gently peel off the mask.
-Remove any excess with a damp cotton cloth or pad.
-Follow with your skincare routine.
Precaution: Product must be applied within 2-3 minutes after mixing.