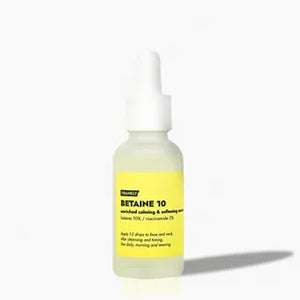 This calming face serum provides multiple care to dry and irritated skin for achieving healthy and smooth skin.
Formulated with 10% Betaine to soothe skin from daily irritations and external aggressors and provide intensive moisture to your skin.
With 2% of Niacinamide to strengthen your skin barrier for preventing dehydration and creating a bright and clear complexion.
Contains Trehalose for delivering nourishment and hydration to achieve a vibrant look.
Features a lightweight watery texture that can be quickly absorbed without stickiness.