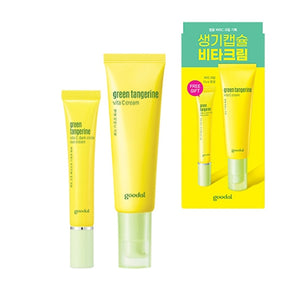 Vitality capsules containing vitamin C found in green tangerines that pop to helps reduce dark spots and provide a moisturized finish.
Containing 62% green tangerine, highly concentrated in natural vitamin C vitamins in cream form.
Fresh vitamins from green tangerine revitalize dullness, while panthenol and 7 different plant-derived ingredients soothe and protect skin, leaving you with a dewy and translucent complexion.

REFRESHING VITAMIN C CAPSULES
- Full of green tangerine! Transform your skin tone from dull to clear and translucent.
FREE OF 20 HARMFUL INGREDIENTS!
- 7 soothing plant-derived ingredients replace 20 harmful ingredients for a safe non-irritant vitamin cream you can trust.
VITAMIN C + E FOR A SYNERGISTIC EFFECT!
- Revitalize skin with vitamin C and relieve with vitamin E for a dewy and vibrant finish.
 
RECOMMENDED IF...
Your face is full of dark spots and blemishes.

You were worried that vitamin C might sting and irritate the skin.

You have a dull skin tone.

Your skin needs revitalizing.