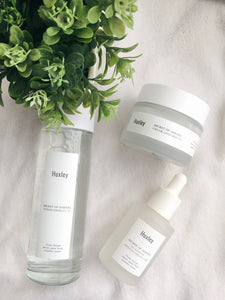 DESCRIPTION
"Huxley" is a new and special skincare brand that takes the natural value of skin as its top priority and pursues the true beauty.
You can now its best-selling Secret of Sahara Oil Essence, Extract It Toner and The Anti-Gravity Cream/ in a special value set! This set is designed to protect skin from pollution, nourish, target aging, and hydrate for every skin type.
1. Toner; Extract It
A slightly acidic toner formulated with more than 90% naturally derived ingredients and cactus extract. It helps maintain the skin's pH balance and leaves your skin clear and moisturized.

2. Oil Essence; Essence-Like, Oil-Like
An oil essence with the optimal balance of oil and essence, containing prickly pear seed oil, energizing and revitalizing the skin.

3. Cream; Anti-Gravity
A non-sticky antioxidant cream that smoothes over rough and dull skin. It protexts the skin from various environmental stressors, and leaves your skin healthy, resilient, and nourished.