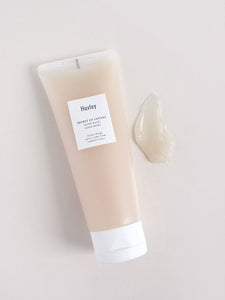 Wake up to a gorgeous, glowing complexion with this restorative face mask, formulated to soothe redness, hydrate dry patches, and restore depleted nutrients while you sleep.
How to use: Before bed, cleanse and tone your face. Apply a liberal amount of mask to your face, being careful to avoid your eyes. In the morning, massage in any excess residue.
About Huxley
Valuing the health of your skin, K-Beauty fave Huxley specializes in creating powerful products that use natural ingredients to combat the effects of harmful environmental stressors. Whether you're looking to soothe redness or to deeply detoxify and minimize your pores, Huxley's highly innovative botanical ingredients - think hydrating cactus water and soothing Aloe Vera - target and resolve your every skincare concern.