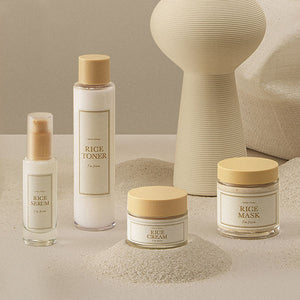 The Rice Healing Package includes 4 Rice products from I'm From, which is curated to improve skin complexity and elasticity. This skincare regime includes steps from Toner to Moisturizer to revitalize and gain healthier skin. The Rice Toner is one of Wishtrend's best selling products, receiving high reviews and feedbacks from customers. It contains 77.8% Rice Extract, effective in improving skin tone and elasticity care. It helps balance dry and tired skin. Rice Serum and Cream is new to the Rice Family. As Rice Serum contains 73% Rice Germ Fermented Extract, it is rich in vitamin B and have powerful antioxidants to boost collagen production. The rice cream has a rich texture and is abundant in ceramide to improve the skin tone and barrier from sun damange. It is also rich in beauty minderals and Vitamins B & E. (Recommend to use Serum and Cream two together for daily use) Last but not least, this package also includes the Rice Mask to remove dead skin cells and impurities and restore the skin's natural glow. (Recommended to use this before skincare)

Effect |
Hydration, Improve Skin Elasticity, Glowing Skin

Recommended to |
Who has weak skin barriers and want to enhance skin complexion

Includes |
I'm From Rice Toner (150ml) x 1
I'm From Rice Serum (30ml) x 1
I'm From Rice Cream (50ml) x 1
I'm From Rice Mask (110g) x 1
How to use:
1) After cleansing, gently apply the Rice Toner on your skin and pat thoroughly for full absorption.
2) Dispense an appropriate amount at the essence stage and apply it over your face evenly.
3) Finish with the rice cream once it's fully absorbed.

For Special Care
Apply the Rice Mask after cleansing and gently exfoliate. Then continue with your skin care routine.