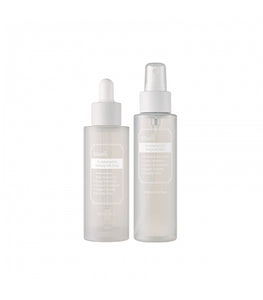 SET INCLUDES
Klairs Fundamental Ampule Mist 125ml x1
Klairs Fundamental Watery Oil Drop x1
Fundamental Ampule Mist 
The Fundamental Ampule Mist is a Green Tea Water based mist, formulated with rice, cucumbers, okra, and mugwort which is effective for intensive hydration and antioxidant care. With the premium formulation, the ampule mist provides high nutrients to the skin for the skin to shine and look dewy with couple spritz. It also locks in the moisture without any layering for long-lasting hydration deep within the skin. Don't forget, it's a mist but works as an ampule! 
125ml / All Skin Types / Made in Korea


Fundamental Watery Oil Drop
The Klairs Fundamental Watery Oil Drop is a water-based serum with the rich hydration of facial oil. It is recommended to those who want all the benefits of an oil product without the oily finish. It holds a non-sticky texture that absorbs effectively on the skin. Also, consisting of high effective formulation such as Green Tea, Ferment Extracts, Ceramide, and Peptides, it not only provides antioxidant care but improves skin regeneration and acts as an anti-aging solution. Make sure to let your skin glow with the Watery Oil Drop! 
50ml / All Skin Types / Made in Korea