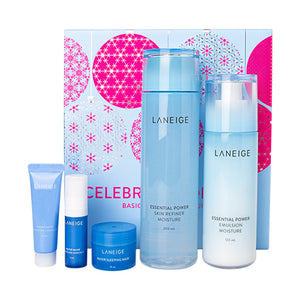 LANEIGE Essential Power Skin Refiner Moisture 200ml
LANEIGE Essential Power Emulsion Moisture 120ml
LANEIGE Water Bank Hydro Essence 5ml
LANEIGE Water Bank Moisture Cream 10ml
LANEIGE Water Sleeping Mask 15ml
#Essential Power Skin Refiner Moisture
It is a moisturizing toner that provides deep hydration to dry skin
and strengthens the skin's moisture barrier.

#Essential Power Emulsion Moisture
The moisturizing-type emulsion keeps moisture balance
in dry skin prone to the formation of flaky dead skin cells.

#Water Bank Moisture Essence
A moisturizing Essence creating a dewy clear
skin through Green Mineral Water.

#Water Sleeping Mask
The intensive moisturizing sleeping mask makes skin clear,
glowing, and revitalized in the morning, as if skin had a restful sleep,
with the sleep tox function of laneige sleeping mask.

#Water Bank Moisture Cream EX
A deep hydration cream with Green Mineral Water to strengthen
the skin barrier, so it stays healthy and strong for 24 hours.