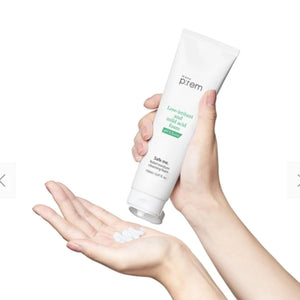 A low-irritant and mild acid foam cleanser that deeply cleanses pollutants and makeup on your skin while moisturizing and hydrating your skin. - Best Korean Skin Care

Makeprem hydrating cleanser washes without leaving a feeling of pulling, dryness and causing irritation to skin. - it is which is an ideal pH condition for healthy facial skin. While, leaving the skin smooth and soft.

Safe me. Relief moisture cleansing foam - A low-pH sly acidic foaming cleanser with a pH of 5.5 that helps effectively remove impurities and makeup without drying out or pull the skin and leaves the skin healthy.

The moisurizing face wash will deeply wipe out dirt, makeup and clogged pores without feeling of dryness and pulling. It will leave skin a smooth and soft texture with a moisture barrier formed on outer layer of skin.

Makeprem facial cleanser is shipped with a moisturizing cream for you to try out! A perfect idea for gifts. Give your skin a cruelty-free treat!