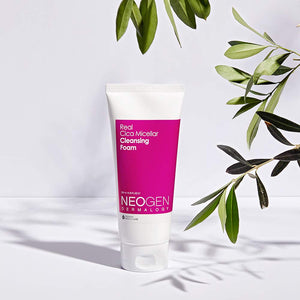 This innovative foaming cleanser with micellar technology perfectly removes away all skin impurities and makeup. Enriched skin soothing ingredients, Centella Asiatica extract and Madecassoside, combined with formula with a moderate pH (5.5-6.5), help mildly finish to a dewy and smooth skin.
MICELLAR TECHNOLOGY
Small and tiny particles called Micelles have water-loving heads and oil-loving tails. When micellar particles contact with skin, oil-loving molecules help capture and draw out all impurities, dirt, and sebum, while water-loving molecules boost skin hydration and help improve skin's moisture barrier.
This innovative micelles reduce your extra time and effort of rubbing your skin several times to remove makeup and impurities, while providing a quick and intensive boost of hydration.
HOW TO USE
Apply an appropriate amount onto your hand and add a little bit of water to make a lather. Massage foam onto your entire face in a circular motion. Rinse off with lukewarm water.
Finished skin stimulation test
human skin irritation test completed non-irritant