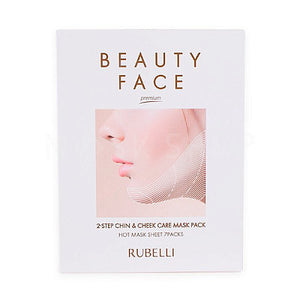 Beayty Face Premium is a HOT mask pack for facial elasticity care. It is helpful for
nourishing your chin, cheeks, and neck and their elasticity care with three stage effects
of a heating feeling of a mask sheet, close adherence by a pink band, and skin elasticity
care. The mask pack which concentrates on caring your chin, cheeks, and neck unlike
general mask sheets is helpful for facial elasticity care as active ingredients of the
mask sheet and the pink band tighten and lifting your face by using it steadily
and repetitively for 30 minutes to an hour per day.
How to use
1. Please wash your face and make a sheet stick to your chin, neck, and cheeks to be the V shape.
2. Please fix a pink band to your face as if you cover it and wear it to fit it.
3. Please remove the mask sheet and the pink band after wearing them for about 30 to 60 minutes and dab parts with remaining essence so that it can be absorbed into skin.
*You do not have to wash your face separately after using them.