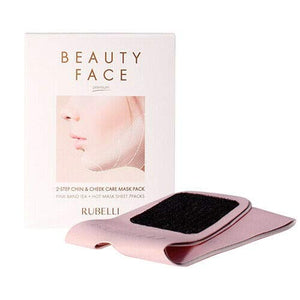 A 2-step self lifting care pink band and hot sheet mask. Use repeatedly for more than 4-5 times per week to feel the results.

Beauty Face provides 3 levels of results with heating effect of hot mask sheet,strong adhesion using pink band, skin elasticity management to deliver nourishment and firmness to the chin, cheeks and neck.

Unlike other mask sheets, RUBELLI Beauty Face covers the cheeks, chin, and upper neck and the facial band provides tightening effect that can be felt continuously.

[How To Use] After cleansing, refine skin texture with toner. Apply the hot mask sheet on chin line.

Place the pink band at the center of the chin, and wrap around the face. Remove after 40 minutes - 1 hour, and gently pat to fully absorb remaining essence.
How to use
1. Please wash your face and make a sheet stick to your chin, neck, and cheeks to be the V shape.
2. Please fix a pink band to your face as if you cover it and wear it to fit it.
3. Please remove the mask sheet and the pink band after wearing them for about 30 to 60 minutes and dab parts with remaining essence so that it can be absorbed into skin.
*You do not have to wash your face separately after using them.