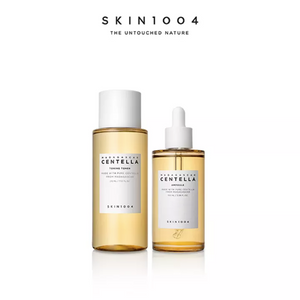 EXFOLIATE AND REPAIR
Our most popular products really do make a great pair. Centella Asiatica is known for its repairing properties, so there is no better duo to work on rejuvenating dull, scarred skin. Our gentle Toning Toner can be used daily to help exfoliate dead skin cells while our soothing Ampoule calms and restores imbalances in the skin caused by harsh environments. The mild formulae make these products a daily staple for even the most sensitive skin.
KEY INGREDIENTS:
Centella Asiatica Extract: Soothes and replenishes skin hydration level. 
PHA (Gluconolactone): Exfoliates and removes dead skin cells without irritating the skin.
HOW TO USE:
- Following cleanser, apply the Toning Toner to a cotton pad or directly onto the palms. Gently pat onto the skin for best absorption.
- Once the toner is fully absorbed, drop an appropriate amount of the Ampoule onto fingertips or directly onto the face. Rub into the skin and pat to promote absorption. 
- Follow up with a moisturizer or the next step in your own personal skincare routine.